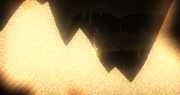 The Gold
[
]
This room can be found above the Essence of Earth, which is at the east wall past the Desert.
This room can also be found below the Essence of Spirits, which in turn is below the West Lake.
Be prepared with a few Black Holes, as these rooms are entirely covered by Extremely Dense Rock.
It's simply a giant room filled with particles of gold you can literally swim in.
Trivia
[
]
It is estimated that The Gold contains a tiny bit more than 250,000 worth of gold. It is definitely worth visiting early in the game if you want extreme spending privileges.
You can drown in the gold, so be sure to either levitate upwards to breathe, or have the Breathless perk.