This page or section includes possible gameplay spoilers or secrets. Tread carefully.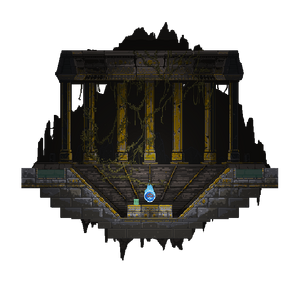 Orbs of True Knowledge are collectibles that can be picked up by the player in the world. They are always accompanied by an Emerald Tablet, and many are also housed in Orb Rooms, which have hidden messages about the lore of the World when their basins are filled with specific contents.
Effects
[
]
When first collected, they will give the player a specific message depending on which Orb was collected and an accompanying spell, which also unlocks the spell for future runs. In all future runs, the player will instead receive a slightly different message (referring to the Orb as a Familiar Orb of True Knowledge) and an Extra Max Health pickup (+25 ♥). Shortly after an orb is collected, an eerie sound will play with an accompanying ominous screen shake effect, hinting that something more is going on as well.
When at least one orb has been collected, a counter will appear below the wand mana or potion capacity bar indicating how many orbs have been collected. This counter does not appear until the player has obtained at least 1 orb.
Kolmisilmä's health increases exponentially with each orb[1]; reaching 131,481 ♥ if all 11 orbs in the main world have been collected.
Known Orbs of True Knowledge
[
]
Orbs of Corrupted Knowledge
[
]
Parallel Worlds have an alternate version known as Orbs of Corrupted Knowledge. They always drop Cursed Extra Max Health pickups instead of a spell or Extra Max Health.
Gallery
[
]
Secret orb
[
]
It is possible, but astronomically unlikely, to obtain a 34th orb from a randomly generated Great Treasure Chest, and 35-36 via Parallel Worlds.
The only guaranteed ways to obtain these currently, are either:
via kaliuresis's Noita Orb Atlas, which lets you find the correct X,Y coordinates for your own random seed.
via a set seed.
See Also
[
]
Notes
[
]
↑ Kolmisilmä also receives additional buffs, weaknesses, and/or new abilities with each orb collected. See this spreadsheet (spoilers!) for a full breakdown.