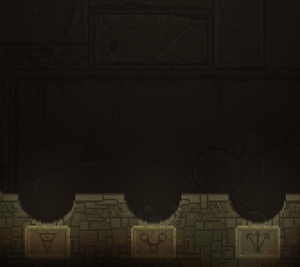 The Nullifying Altar is a special structure found deep within the Sandcave, below the Overgrown Cavern. It is built of brickwork and has 3 slabs bearing alchemical symbols for materials.
If you get the correct materials into the corresponding spots, the whole room will flash bright, and all of your perks will be removed, and placed in the air above you. Now with them above, you can choose to pickup or leave any perk you previously had, as they won't disappear on pickup.
Usage
[
]
This content includes possible spoilers or secrets. Tread carefully.
The alchemical symbols shown here are those for: Blood, Spirit, and Silver.
Video guide
[
]