Welcome. This guide will cover some of the mechanics of creating an infinite lifetime spell, caveats, and a detailed list of the minimum necessary modifiers for creating infinite lifetime spells out of any given projectile spell.
Infinite lifetime spells are often referred to in the Noita community as infiniwisps or more simply just wisps, among other terms. They are often paired with modifiers like Boomerang and Homing to allow them to target enemies automatically, and follow the player autonomously. Modifiers like Drilling Shot and Piercing Shot are also often desirable, so the projectile remains alive even after attacking enemies.
Successfully creating an infinite-lifetime spell for the first time in a session will trigger the game message The gods are very impressed with you
Mechanics
[
]
On paper, the mechanics of how infinite lifetime spells work is quite simple. Internally, Noita handles projectile lifetimes in terms of the number of frames a projectile lasts. Typically Noita runs at about 60fps, so a projectile with a typical lifetime of 1 second is defined internally as lasting for 60 frames. If a projectile has a lifetime in frames of exactly -1, then it is treated as having infinite lifetime. Reducing the lifetime further instead treats the lifetime similarly to a projectile with a 0-frame lifetime; it will exist for a single frame and then expire.
This is sometimes complicated by the fact that certain spells don't have a fixed lifetime value, but vary slightly. This can mean even with perfect preparation, only a small percentage of casts will result in an infinite lifetime projectile.
Limitations
[
]
Some spells or modifiers have maximum lifetime restrictions, notably the field-based spells like Circle of Thunder, Circle of Stillness, and so on. These will cause the spell to terminate forcibly after a specific timeframe, regardless of the projectile's own lifetime modifiers. Some examples of modifiers that impose maximum durations include Matter Eater, Copy Trail, and any of the Larpa modifiers.
Lifetime Modifiers
[
]
The below table lists all the modifiers known to affect projectile lifetimes, and the value in frames they modify the lifetime by. Very often, several modifiers combined will be needed in order to achieve a -1 lifetime value.
When using the divide by Spells to multiply lifetime modifiers, it's important to note that they will cast the following modifier their set number of times, and then the following modifier will be cast as well. For example, a Divide By 2 applied to a Reduce Lifetime will have the effect of 3 Reduce Lifetime modifiers.
Note that both the Boomerang Spells and Bouncing Spells perks make each projectile in the cast state add lifetime, Boomerang adds +20 per projectile and Bouncy adds +60 per projectile. This makes making wisps slightly more complicated, but it is still possible.
Video guides by Nymphspyre
[
]
Cheat Sheet
[
]
The following table details the spells that can achieve infinite lifetime, along with the minimum necessary modifiers, and their chance of achieving infinite lifetime on any given cast.
For projectiles with variable lifetimes, the base lifetime is shown alongside the minimum and maximum lifetimes. The chance of creating an infinite spell is directly correlated to how widely varied the projectile's lifetime can be.
The same information is in this condensed infographic.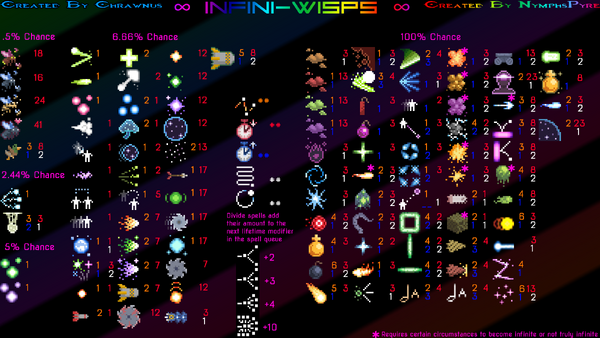 Example wand builds
[
]
Infinite Platform or Wall
[
]
By Letaali
Shuffle
Spells/Cast
Infinite Healing Bolt
[
]
Shuffle
Spells/Cast
Notes
[
]
↑ Spiral arc is equivalent to any 2 Ping-Pong Path or Orbiting Arc, but is generally not preferred as an option due to how strongly it affects a projectile's path, often making it difficult to be a reliable infinite projectile.