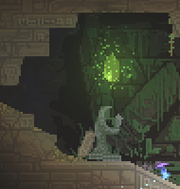 Collecting the Curse of Greed will cause a Greed-cursed Crystal to spawn within all unvisited Holy Mountains, except for the final ones.
Being near to the Crystal causes the progression of the Curse to pause temporarily.
When broken, the Curse is broken, and the message is shown: The crystal shatters!The curse has gone away, but so have the treasures it grants.
This content includes possible spoilers or secrets. Tread carefully.
There is an Achievement for sacrificing the Crystal upon the mountain altar.