The Dark Cave is located west of the Collapsed Mines, and connects to the Ancient Laboratory further west.
About
[
]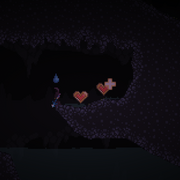 The interior of the cave is filled with water, and won't be revealed by entering it like most other locations. To see inside the cave, there are currently 5 known methods:
Once the player can see inside the cave and the water is removed (by drinking or other means), a Max health upgrade pickup can be found in the top half. A full heal pickup (much like the one in the Holy Mountain) can also be found near the bottom, making this one of the few sources of healing.
While a bit dangerous and tricky, it's absolutely possible to navigate this cave without using any light source at all. Just make sure to drain the water first so you won't drown, and pray you won't have any enemies wander in from the west to shoot you in the dark, a good way of doing this is blowing a hole near the bottom towards an open cave or bringing a Kiuaskivi and holding it.
Possible layouts
[
]
Below are the 5 currently available Dark Cave layouts. In case the game will ever update this feature, the new files will most likely be located under Nolla_Games_Noita/data/biome_impl/ folder, unless the generation is made procedural.