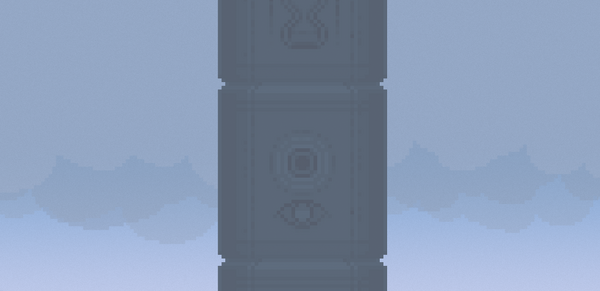 The Buried Eye is an eye-shaped statue found in the Snowy Depths. This statue is nearly identical to the eyes seen in the bricks between regular portals and Holy Mountains at the bottom of biomes, except that the top of this eye statue is open.
Activating the portal is an achievement displayed as a segment on the Achievement Pillars.
Notes
[
]
Similar to the eye-statues in the bricks between biomes, the statue creates a portal when filled with enough Teleportatium or Unstable Teleportatium.
The eye statue can spawn with frozen rock, ice or snow covering it.
Since the statue itself is made of brickwork, spells that destroy weaker materials will not harm the statue.
If the Teleportatium is drained from the eye statue, the portal will 'destabilize' and disappear.
The portal leads to an unnamed location, which holds two medium-tier wands and a portal back to the Snowy Depths. The cave is surrounded by dense/extremely dense rock.
In Parallel Worlds, activating a Buried Eye portal will create a helpful shortcut to/from the Main world, because the Buried Eye's exit-portal will always lead to the most recently used entrance-portal.
Trying it on New Game Plus will only land you in the Sandcave.
Gallery
[
]