This page includes a detailed breakdown of many of the in-game achievements, many of which may be considered extensive spoilers. Tread with care.
Six Achievement Pillars can be found on top of the Giant Tree. Each individual piece of a pillar represents an achievement, showing that the player has accomplished a certain task or found a specific secret, making the pillars higher as you unlock more achievements. The unlocked sections will persist on top of the tree even if the player dies.
In the following list, the pillars are listed left-to-right. Entries appear bottom-to-top on the pillars. The order of pillar pieces is not dependent on the order they are unlocked in.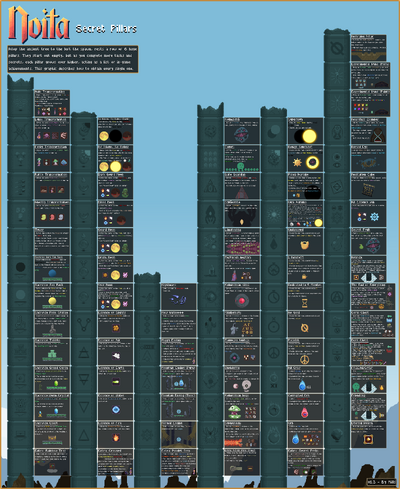 Pillar of Sacrifice & Transformation
[
]
Sacrifice a Treasure Chest on the mountain altar
Sacrifice a Worm Crystal on the mountain altar
Sacrifice a Greed-cursed Crystal on the mountain altar
Sacrifice 3 Emerald Tablets on the mountain altar
Sacrifice a Munkki statue on the mountain altar
Sacrifice a Sunstone on the mountain altar[1] (currently buggy, might not work, try again on another run)
Sacrifice a Darksunstone on the mountain altar[2] (currently buggy, might not work, try again on another run)
Ascend The Tower and exit via the portal at its apex
Ghostly Transformation[3]
Ratty Transformation[4]
Funky Transformation[5]
Lukki Transformation[6]
Halo Transformation
Essence of Fire collected[7]
Essence of Water collected[8]
Essence of Earth collected[9]
Essence of Air collected[10]
Essence of Spirits collected[11]
Void Moon secret[12]
Drunk Moon secret[13]
Gourd Moon secret[14]
Pillar of Completions
[
]
Pillar of Bosses
[
]
Pillar of Accomplishments
[
]
1 Orb of True Knowledge collected
Corrupted orb collected
All orbs collected (11 orbs)
Pacifist run
No gold run
5 minute speedrun
1 minute speedrun
No-hit run
Supernova[19]
Pillar of Secrets
[
]
Notes
[
]
See also
[
]